Standard GPS and Accessories
Our GPS equipment and accessories qualification are certified by the Department of Land Transport (DLT) standard.

GPS Black Box
GPS black box equipment is a core device of NOSTRA LOGISTICS system to track vehicle location data. Also it can connected with the magnetic card reader and other sensors or devices to collect any special data during driving from car engine.
Magnetic Card Reader
The magnetic card reader can identify the driver and type of driving license. It can also connected with the GPS Black box to send driving violation information into the GPS System of Department of Land Transport.
Telematics Sensors and Devices
Equipment for Telematics system can increase transportation management efficiency, more than normal tracking
CANBUS Data Receiver (eData)
Currently, some vehicle has internal processing system, which give its engine data. Simply install CANBUS equipment to read those value data, for example:
RPM of engine
Engine temperature and lubricant
Odometer (meter to indicate total route distance of vehicle)
Safety belt status
Advance Driver Behaviour Detector (eSafe)
Normal GPS equipment can track drivers' behaviour in general. However, eSafe has been improved to track drivers' behaviour in more details such as increase or reduce speed while approaching a curve, change lane suddenly, speed up to overtake another car, cross over corduroy road without slowing down, watch out for accident etc..
Fuel Sensor (eFuel)
If the CANBUS equipment cannot be installed to measure the fuel oil value from the car body directly, then another more accurate choice is to install fuel oil sensor with eFuel. It can calibrate fuel oil value without swinging with car movement. There is also auto calibrate feature, maximum and minimum acceptance values.
Mobile Digital Video Recorder (MDVR)
The Mobile Digital Video Recorder which can send images to the Cloud System. The equipment can handle 4 -8 cameras and edit images to coincide with events appropriately. The Supervisor can monitor event through MDVR camera installed in vehicle at the same angle as driver's.
Advance Driver Assistance System (ADAS)
The Image Processing Equipment watches out, prevent, alerts drivers with various conditions such as give warning when vehicle is hit in front, watch out for pedestrians, change lane without switching on the turning light, drive closely to the front car, Speed Sign Detection System etc.. Show warning on Equipment Display and give warning sound to alert driver to be careful.
Fatigue Monitoring System
The Image Processing equipment is used for checking the driver's face, track fatigue and eyesight off from the road, as well as to prevent driver from dozing off. If the Fatigue Tracking accessory equipment is installed, it will alert driver such as shake the driver's seat etc.
GPS Navigator (Mobile & PND)
System application can be connected to GPS Navigator equipment both Mobile GPS and Personal Navigation Device (PND) to guide and deliver products to the destination without fail. The Shipment routes can be imported from delivery plan to the equipment easily, convenient and ready for usage. No more worries about new drivers not knowing the direction.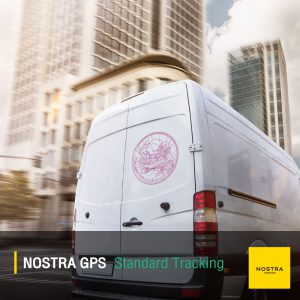 ระบบติดตาม GPS มาตรฐานกรมการขนส่งทางบกพร้อมเชื่อมโยงข้อมูลเข้ากับศูนย์บริการเดินรถของกรมการขนส่ง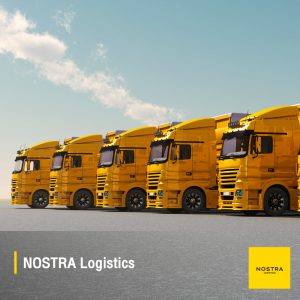 พัฒนาไปอีกขั้น เพื่อตอบโจทย์การบริหารงานขนส่งของท่านให้สมบูรณ์แบบ ด้วย NOSTRA Logistics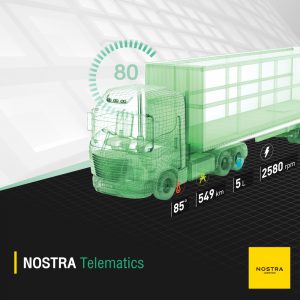 ต่อยอดระบบ GPS ให้ทำงานได้โดยไร้ขีดจำกัด ด้วยอุปกรณ์เทเลเมติกส์ เพื่อการวิเคราะห์ แจ้งเตือนและรายงานที่แม่นยำ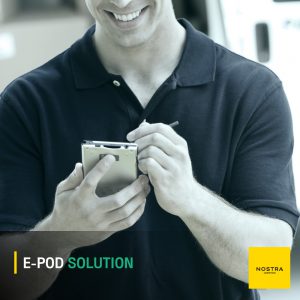 พร้อมสนับสนุนธุรกิจการขนส่งในยุคออนไลน์ ด้วยการนำเทคโลยีระบบติดตามมาผสานกับฟังก์ชันรับ-ส่งงานผ่านทางสมาร์ทโฟน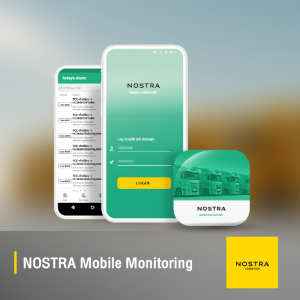 เสริมการใช้งานระบบ NOSTRA Logistics ให้ครบวงจร ด้วยแอปพลิเคชั่นบนสมาร์ทโฟน สำหรับตรวจเช็ค ติดตาม และแจ้งเตือน ทุกที่ตลอด 24 ชั่วโมง
Hardware
MOST COMPATIBLE GPS DEVICE WITH NOSTRA LOGISTICS SOLUTIONS
NOSTRA logistics ให้คุณวางใจและมั่นใจได้ว่าอุปกรณ์ในระบบทุกชิ้นจะทำงานได้อย่างถูกต้องและมีประสิทธิภาพ เพื่อผลลัพธ์ที่เชื่อถือได้
Connect with Our Experts
มืออาชีพในการออกแบบโซลูชันด้านการบริหารจัดการงานขนส่งให้พอดีกับคุณ จะธุรกิจไซส์ไหนก็วางใจปรึกษาเรา