THE MOST VARIOUS FLEET MANAGEMENT SOLUTIONS IN THE MARKET
The transportation process occurs in every part of the Supply Chain, therefore, it is vital that business must have good transportation management system, so as to reduce cost and increase efficiency for all resources used in the system. The Transportation Management and Vehicle Tracking System will increase efficiency in transportation work like a professional. It comes in 4 formats thus is able to conform to businesses' needs. It has also gained trust from leading transportation companies in Thailand for its standard.
NOSTRA GPS
The New Standard of Logistics Management
You can trust in this Real Time GPS vehicle tracking System, which has achieved Department of Land Transport Standard. The card identification machine, which identifies the driver and connect information with Transport Service Center under the Department of Land Transport. The NOSTRA GPS, basic tracking system which focus mainly on checking the driver's behavior such as driving at the required speed and take a rest during specified time.
NOSTRA Logistics
The Most Completed Fleet Management for All Sectors
NOSTRA Logistics , another development step to completely meet your transportation management. It is transportation management and vehicles tracking system in the form of Cloud Shipment & Fleet Management and GPS Tracking. The integration of information technology system for transportation work with Real Time GPS map system will increase competitive edge and improve transportation efficiency of business organizations. We are the first GPS tracking system company in Thailand market, which integrates leading technology in various fields to revolutionize vehicles tracking so as to achieve all round and complete transportation management system.
We have also customized Programs to coincide with specific needs of each entrepreneur. Moreover, tracking equipment of NOSTRA Logistics can connect with other accessory equipment such as thermometer, door open-close detection machine, Help Button, Warning Signal, GARMIN GPS equipment etc..
NOSTRA Telematics
The Ultimate Sustainable Fleet Management Solution for Leaders
The best technology for transportation management. It is accurate and adding to the NOSTRA Logistics enable to work without limitation. The integration of wireless technology and GPS System and information derived from telematics equipment installed additionally in vehicle will give warning and report drivers' behavior clearly for each case. Consequently, problems can be analyzed and solve properly, which will greatly reduce cost.
The points evaluation on drivers' behavior will lead to improvement plan for drivers in the future, which increases safety for vehicles and products, on-time product deliveries and fulfil customers' satisfaction. Besides this, the Telematics equipment will enhance vehicle inspection performance such as obtain actual fuel oil consumption from engine, distance from car mileage number. These information are used for planning and give warning when it is time for vehicle care and maintenance.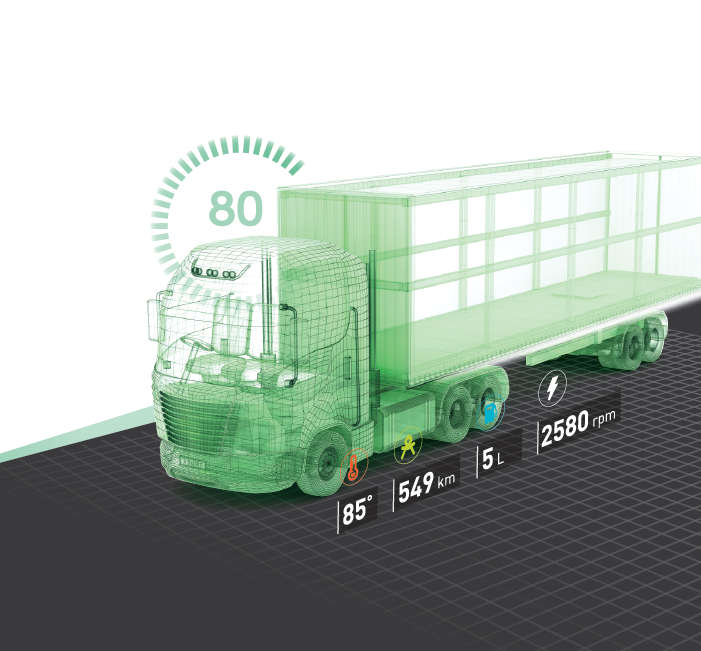 NOSTRA E-POD SOLUTION
Electronic Proof of Delivery Real Time Delivery Validation on Mobile
Electronic Proof of Delivery Real-time Delivery Validation on MobileDo no miss out on any transportation tracking job, when there is professional product delivery management assistant like E-POD or "Electronic Proof of Delivery". Ready to support transportation business in this Online Age by combining tracking system technology with job acceptance – delivery function through smartphone. Simple to use by installing Application to increase efficiency in the Online System. Hence, Supervisor can communicate with product delivery employees through Application, track and inspect product delivery status by Real Time. If any problem occurs, it will be known and can be solved immediately.
NOSTRA Mobile Monitoring
Real time Fleet Checker and Tracking on Mobile
Support the all around application for NOSTRA Logistics System with smartphone application to check, track and give warning everywhere throughout 24 hours on the iOS and Android Operating System, in order to monitor and track transportation vehicles everywhere all the time. The function enables users to see vehicle status, give warning if there is anything abnormal. Transportation Supervisor can also communicate with driver employees quickly through mobile phone.